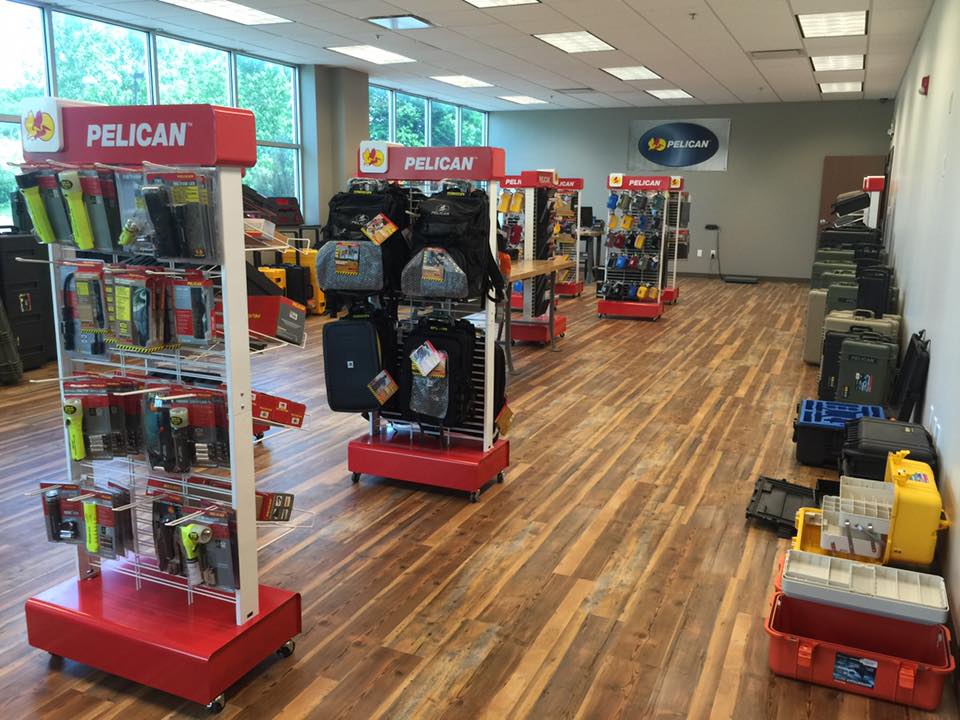 We have the only Pelican SHOWROOM in Michigan and with almost every case in stock our experts can help you find the case that best fits your needs! We are currently open by appointment only, and all visitors will be require to sanitize their hands and wear masks upon entry. Only one customer allowed in the showroom at a time. If you do not have a mask, one can be provided. Please call to make an appointment. We would prefer if you can place your order over the phone, and we can bring your items out to you if possible.
Appointment hours are from 8:30am - 4:00pm M-F.


46921 Enterprise Court
Wixom, MI 48393

Phone: (248) 624-1885


Pelican Products is a leading global manufacturer of rugged protector cases, rugged shipping containers, multi-purpose flashlights and advanced lighting systems.

Sensitive equipment needs protection, and since 1976 the answer has been the Pelican™ Protector Case. These cases are designed rugged, and travel the harshest environments on earth. Against the extreme cold of the arctic or the heat of battle, Pelican cases have survived.
Made in the USA, these tough cases are designed with an automatic purge valve that equalizes air pressure, a watertight silicone O-ring lid, over-molded rubber handles and stainless steel hardware. Our simple and strong double-throw latches keep the lid closed in the roughest handling.

So if you've got a camera that needs to stay dry, a gun that needs to stay dust-free or a laptop that has to work when it's needed most- go with a Pelican Protector Case™ wherever your adventures take you. From hand gun and/or rifle-weapon cases or photo/camera cases, to medical equipment or high tech electronics, we have a case to meet each challenge.

Do we sell Pelican cases? You bet, we sell Pelican cases and for less!! Buy your Pelican cases direct from us- most cases are in stock, ready for sale and immediate delivery or local pick-up today. There are even Pelican cases designed to fit Apple products like the iPhone, iPod and iPad. These cases are the perfect fit for the active person on the go that needs awesome protection for their favorite gear.

There is no better resource to ensure your valuable content is protected than a custom foam insert for your new Pelican that is designed by a preferred US Pelican core dealer. Each Pelican case is watertight, airtight, crush proof and comes with a lifetime warranty. Buy direct from us at close to wholesale today! We save our customers time and money every day.

Are you in need of any custom solutions? Visit Pak-Rite, Ltd. Michigan for all of your custom needs!



Products are shipped via UPS. You will receive tracking information via email along with a copy of your invoice.





Online Order Policy

Shipping
Orders will be shipped within 24 business hours if the item(s) are in stock. If the item(s) are not in stock, customers are notified within 24 business hours via email of their back-order status. If for some reason you do not receive a notification via email within 24 business hours, please contact us.
Return Policy

All items returned will be subject to a

20% restocking fee

. Any orders that are cancelled and the items are in stock will be refunded with a 5% transaction fee. Returns must be accompanied by an RMA number, original invoice and original box. No returns after 30 days from purchase date. Parts will be subject to management inspection. If purchase is considered a "special order" including orders over quantities of 10, returns must be made within 30 days from initil order date. Returns of orders of quantities over (10) pieces, will be subject to a 20% restocking fee, plus the cost of the return freight to Pelican's California warehouse.




To return items please call (248) 624-1885


Pick-Up Policy (at our Michigan Store)

Customers will receive an email and phone call when their order is available for pick-up. If you do not receive an email, or phone call regarding the status of your order within 24 business hours, please contact us.

Customer pick-up hours are from 8:30am to 3:30pm, Monday through Friday (excluding holidays New Year's Day, Memorial Day, Independence Day, Labor Day, Thanksgiving, and Christmas). Please wait until you receive a pick-up notification before coming to the store.